Matrix Reloadedi : posters released.

Set of 7 advance character onesheets DS
First holofoil "2003" SS
Second holofoil "5/15" SS
Final holofoil w/ credits SS
British quad - Trinity (limited to 500 for the set of three) DS
British quad - Neo DS
British quad - Morpheus DS
British quad - final Neo/Trinity
International - Neo SS (all four with Aussie film comission logo)
International - Trinity SS
International - Morpheus SS
International - Smiths SS
International - final Neo/Trinity SS UV gloss
DS final w/o credits
French 47"x63" Cannes Festival - Neo
French Cannes - Trinity
French Cannes - Morpheus
Aussie Daybill w/ archway trio artwork, unused in states

Also: twins advance w/ guns, not knives.




Item Details:
1-Sheet Mylar, Adv Holofoil 27x40 Rolled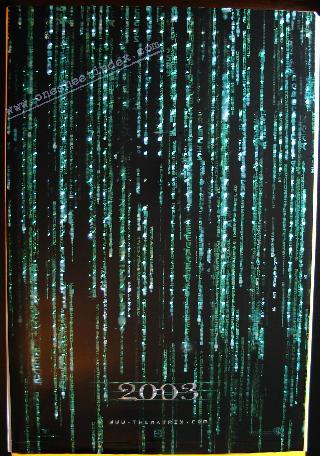 Member login required.