Alien 1


1979 Sigourney Weaver, Tom Skeritt

The fascinations of deep space provide a cinematic challenge which director Ridley Scott meets with astonishing results in Twentieth Century-Fox's futuristic suspense-thriller "ALIEN," utilizing some of the most innovative and spectacular special effects ever filmed.

Produced with breathtaking imagination by Gordon Carroll, David Giler and Walter Hill, the screenplay by Dan O'Bannon plunges the viewer into a maelstrom of terror and suspense. Based on a story by O'Bannon and executive producer Ronald Shusett, it tells of seven astronauts -- five men and two women -- working on a battered commercial space-tug far away in space and time who encounter an awesome galactic horror. The surprising character revelations which occur during their desperate attempt to combat this mysterious force provides seven extraordinary performances from the film's seven stars -- Tom Skerritt, Sigourney Weaver, Veronica Cartwright, Harry Dean Stanton, John Hurt, Ian Holm and Yaphet Kotto.

Director Scott worked closely with special effects director Brian Johnson and supervisor Nick Alider, as well as noted artists

H. R. Giger and Ronald Cobb, to evolve

a totally original concept of space.

Academy Award winner Jerry Goldsmith has contributed a brilliant score, Associate producer is Ivor Powell, visual concepts consultant Dan O'Bannon., lighting cameraman Derek Vanlint, production designer Michael Seymour, editor Terry Rawlings, costume designer John Mollo, and art directors Les Dilley and Roger Christian. The latter three won Hollywood "Oscars" for their outstanding work on "Star Wars."

Co-producer Gordon Carroll has previously produced such pictures as "How To Murder Your Wife," "Cool Hand Luke," "The April Fools" and "Pat Garrett and Billy the Kid."

Co-producer David Giler co-wrote the screenplay for "Myra Breckenridge" and later wrote such movies as "The Parallax View" and "Fun With Dick and Jane." He both wrote and directed "Blackbird" (the recent screen sequel to the classic "The Maltese Falcon").

Co-producer Walter Hill has written the screenplays for such films as "Hickey and Boggs," "The Getaway," "The MacIntosh Man," "The Thief Who Came to Dinner" and "The Drowning Pool." He both wrote and directed "Hard Times" and "The Driver," and directed "The Warriors" which he co-wrote with David Shaber.

Director Ridley Scott made his feature film debut in 1977 with the acclaimed "The Duellists," which won a major award as "Best Foreign Film of the Year" (the French "Oscar") at the Cannes Festival. He had previously directed scores of award-winning TV and cinema commercials.

Executive producer and co-author of the original story of "ALIEN," Ronald Shusett, has produced stage plays in Los Angeles and on tour. "ALIEN" is the first of his stories to achieve celluloid and he has plans for many more productions.

Dan O'Bannon, who wrote the screenplay as well as co-wrote the original story for "ALIEN," also serves as visual concepts consultant. O'Bannon was one of the creators of the film "Dark Star," which he co-wrote, co-directed, designed, edited and created the special effects for, as well as having co-starred in it. He also worked on the special effects for "Star Wars." Dallas, Captain of the commercial space-tug "Nostromo,"

in "ALIEN," is played by American actor Tom Skerritt, whose recent films have included "Ice Castles" and "The Turning Point" (in which he played Shirley MacLame's husband). Earlier, he was one of the cast of the original film of "M*A*S*H" and has also starred in many U.S. TV productions.

Young American actress Sigourney Weaver, has appeared in off-Broadway stage productions, mainly by new playwrights, including the original production of "Gemini" (now running on Broadway) and "Marco Polo Sings A Solo." She also appears frequently at Joe Papp's theatre in New York, and portrayed the head of the family's wife in a PBS television series entitled "The Best of Families." She makes her motion picture debut in "ALIEN" as Ripley, the space-tug's warrant officer.


Item Details:
1-Sheet Advance Rolled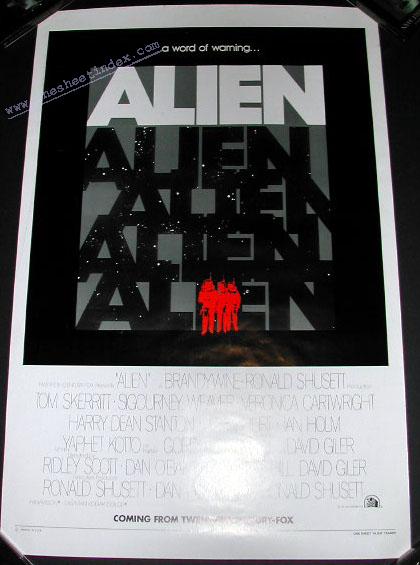 Member login required.